Traditional Arts Gathering on the Yellow Dog River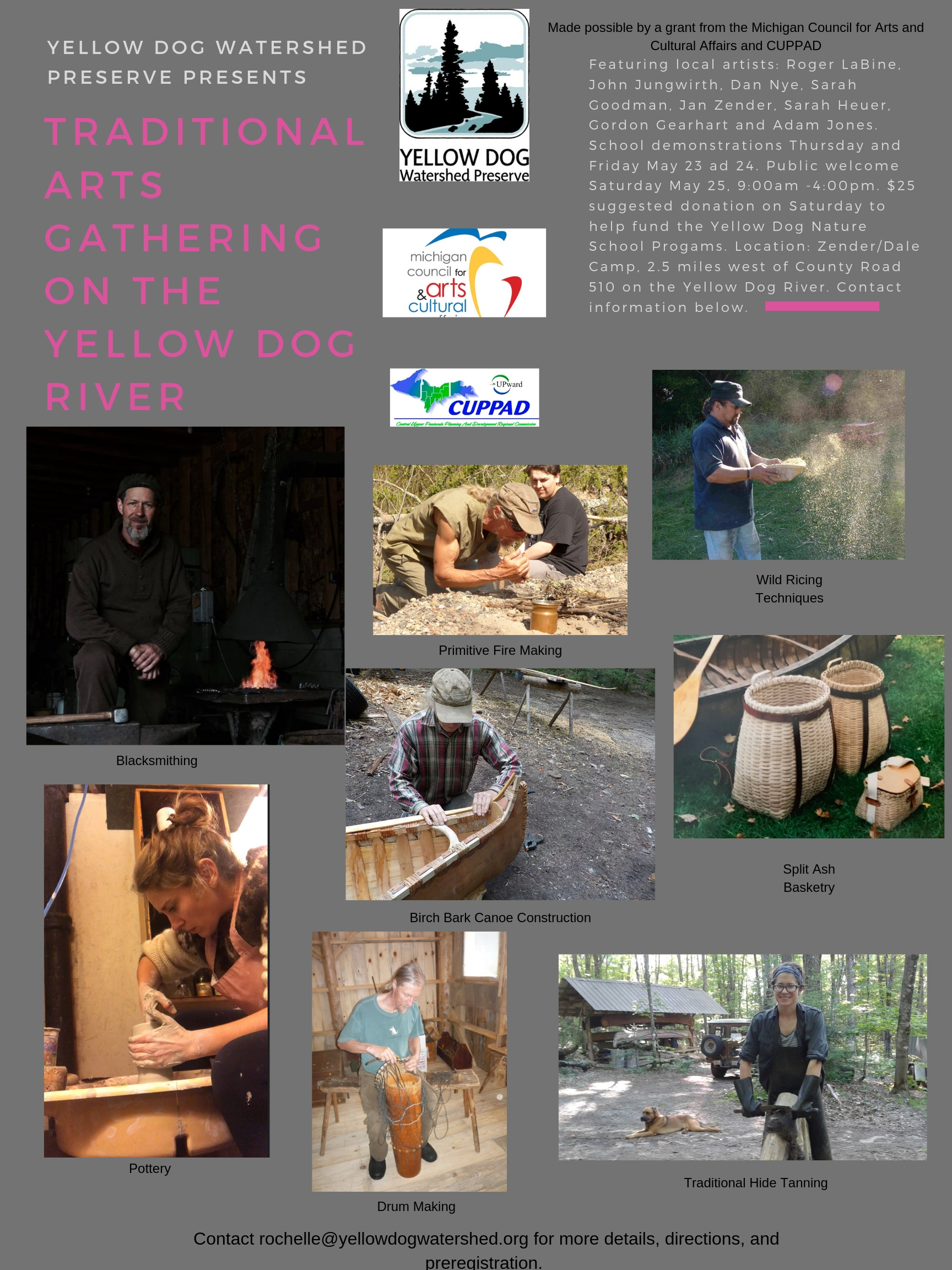 The Yellow Dog Watershed Preserve's Nature School has been awarded a $4000.00 grant from the State of Michigan Council for Arts and Cultural Affairs (MCACA) to host a three-day Traditional Arts Gathering along the Yellow Dog River west of County Rd 510 on May 23, 24, and 25.  This grant was one of 561 applications to compete for MCACA fiscal year 2019 funding.
Resident artists from Michigan's Upper Peninsula will come together in a wilderness setting along the Yellow Dog River to share their skills and talents with schools and students from Marquette Alternative High School, Powell Township School, and the general public on day three. Participants will be able to experiment with hands on projects in traditional blacksmithing, pottery, hide tanning, birch bark canoe construction, traditional drum making, wild ricing techniques, basket weaving, primitive fire making, and storytelling. Artists include Roger Labine, Gordon Gearhart, John Jungwirth, Sarah Goodman, Dan Nye, Jan Zender, Adam Jones, and Sarah Heuer. Public is invited to attend on Saturday, May 25 from 9:00-4:00. Please register in advance with rochelle@yellowdogwatershed.org. $25.00 donation per person is recommended.
This MCACA grant award would not have been possible without the support of the Marquette Alternative High School, Powell Township School, ZenderDaleArts, and the numerous hardworking YDWP volunteers. If you would like to help out in any way or volunteer during any day of the event, please contact Rochelle at above email or call 906-345-9223.
The MCACA Minigrant Program for this region is administered by Central Upper Peninsula Planning and Development (CUPPAD).