Riparian Zone: Wild and Scenic River Paintings on Display at Babycakes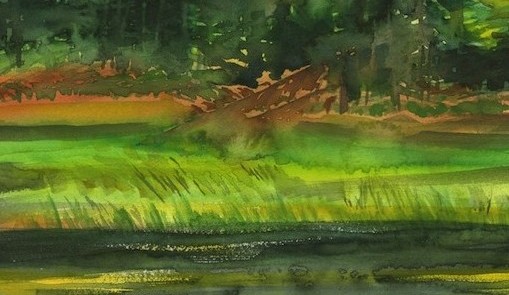 Local artist Kathleen Heideman-Rydholm is again displaying her beautiful watercolor paintings at Babycakes throughout the month of May. Please visit the local cafe to view the show entitled RIPARIAN ZONE: Wild & Scenic Rivers. Four of her paintings at the show are from the St. Croix National Scenic Riverway, and one features the Yellow Dog River. 
Babycakes is located at 223 West Washington Street, in downtown Marquette, Michigan. The hours of operation are 6 am – 6 pm Monday through Friday, and 7 am to 6 pm Saturday.
The Yellow Dog is designated a National Wild and Scenic river for the first four miles where it flows through the rugged McCormick Wilderness Area. The East Branch Yellow Dog River begins in a chain of interconnected lakes including White Deer and Bulldog Lake and travels north though thick cedar swamps before it connects with the West Branch Yellow Dog River just after Lost Lake and the Yellow Dog Falls. In this area the land surface is protected by the Federal Government and the Wilderness Act of 1964.