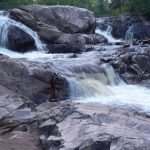 In our ongoing effort to persuade the public and our elected officials that developing a mine in this watershed is not the best choice both environmentally and economically, we invite our members and the public to get involved now more than ever. As many of you know, a private citizen, Cynthia Pryor, was arrested Tuesday for "trespassing" on public land, Eagle Rock. Cynthia was sitting near a bulldozer that was unoccupied and shut off when Kennecott personnel came over to inform her that she was trespassing. The personnel left to call security and the police over her actions. She was taken into custody, pled not guilty, and was released yesterday due to a judge's ruling. She will still face charges at her trial set for May 6, 2010.
Many people have expressed concern over her treatment and are in disbelief with the company over their withdrawal of a permit application so they could skirt around the federal government and begin to clear the surface. Some believe they do not have an executable permit since they never heard from the U.S. Environmental Protection Agency over the issue. Some believe since the MDNRE concurred with the company, they do have their permits. The Yellow Dog Watershed Preserve believes that whether or not they have a permit in hand, their actions have been reflective of how they would operate the mine, careless and hurried.
There is still opportunity to put this mine to rest. There any several actions you can take that will keep the water and land protected and for all to use. The good news is that we will never go away but Kennecott/Rio Tinto will. Here are some things you can do to try and improve the situation for those of us who will not trade off our morals and way of life for a paycheck.
1. Take just a few minutes each day to read through the Mining Journal and TV-6 website. Look for opportunity to voice your opinion. TV-6 frequently has a blog and/or poll that you can post on. It is not a waste of time, so speak up! This shows the internet community that it is not a one sided way of thinking. Writing letters to the editor of the Mining Journal always helps. We need more people to speak up.
2. Take a little trip out to the plains. Go with a friend, take pictures to share, and see for yourself what is going on. Be mindful that if you occupy the land that has traditionally been open to the public, you can be arrested! We advise that you stay on the road.
3. Write letters to the MDNRE and express your concern with how this project is proceeding and how the company is handling people in the community where the mine would be located. We can help you write letters if needed.
Rebecca Humphries
Department of Natural Resources
Mason Building, 6th floor
P.O. Box 30028 Lansing, MI 48909
4. Donate to a legal defense fund that is set up for people like Cynthia. You can visit http://www.savethewildup.org/donate. You can also donate to groups like ours who continue to do all they can to help this community make a better choice for their future at https://yellowdogwatershed.org/contribute-today/donation-station/
5. Attend rallies, events, and informational sessions to be part of the movement. Check back for event details and updates as things unfold.