Non-Native Invasive Species Removal in the McCormick Wilderness Area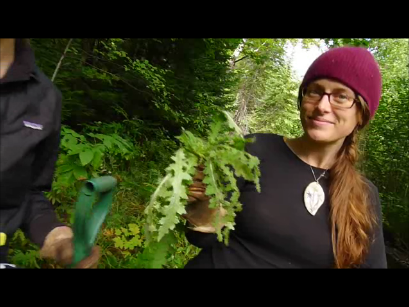 In July 2013, Yellow Dog Watershed Preserve staff began guiding volunteers and field crews from partner organizations in to the McCormick Wilderness Area, a part of the Ottawa National Forest. This area is a 17,000 acre tract of rugged, rocky and hard-to-reach federal wilderness which straddles the Lake Superior and Lake Michigan watersheds. The YDWP received a grant from the National Forest Foundation to remove Eurpean Swamp Thistle and replant with native seed purchased from the Ottawa National Forest in wetlands and along trails as a part of the McCormick Wilderness Wetland Restoration project.
The first year of European Swamp Thistle eradication took place in 2011 after an initial survey of non-native invasive species took place in 2008. The European Swamp Thistle was the designated priority species of concern. European Swamp Thistle, Cirsium palustre, or the marsh thistle is an aggressive biennial plant that has become invasive and it is outcompeting native plants. It grows as a rosette the first year and then forms a strong spiney stalk in the second year which produces beautiful purple flowers. The flowers then go to seed and quickly recolonize stream banks and sensitive wetlands, like those in the McCormick. The headwaters of the Yellow Dog, Dead, Huron and Peshekee Rivers are all in the McCormick. In effort to preserve the native vegetation and protect water quality the Yellow Dog Watershed Preserve started this project.
In addition to pulling rosettes, removing seed heads and replanting with native seed, the Yellow Dog is also recording data about the invasive infestations using innovative technology. It is important to collect information about the invasive species you are trying to control in order to track your progress over time and find priority areas. We are using Android phones equipt with a datadroid app, set up by volunteer Dan Cardin, that allows us to record data, including: species type, infested area size, descriptions, and take photos. We also mark a GPS location in the Android with the addition of a Garmin GLO, an external device that allows the Android to become a GPS by communicating to it through Bluetooth. Thank-you Dan for the big help, and thanks to the Norcross Wildlife Foundation for the grant for this equipment.
We are nearing the end of our field work and have made progress towards controlling the infestation thanks to help from a number of partner organizations and volunteers, such as: the Superior Watershed Partnership/Central Upper Peninsula Cooperative Weed Management Area, Superior Watershed Partnership/Keweenaw Bay Indian Community Youth Crew, the Cedar Tree Institute, the 4-H Teen Wetlands Team, the Patagonia Environmental Internship Program, Tree Musketeers, Friends of the McCormick, and the Zender and Dale family. See a short video about the project filmed and directed by field worker/filmmaker Nathan Meadows here!