Fly-Fishing Workshop on the Yellow Dog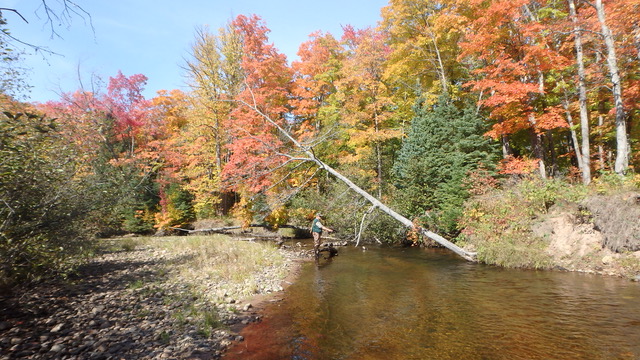 Our inaugural fly-fishing workshop for novice fly fishermen and women will take place on August 27-28 on the Yellow Dog River. This collaborative event is hosted by the Yellow Dog Watershed Preserve (YDWP), the Fred Waara chapter of Trout Unlimited (TU), and Superior Outfitters.
Classes and instructions will commence at the Zender/Dale Yellow Dog Forest Retreat at 10:00 am on Saturday and continue until midafternoon on Sunday. Participants do not need their own equipment: TU and Superior Outfitters will supply fly rods, flies and other necessary accoutrements. However, participants should bring wading shoes of some sort and clothes that can get wet. Extra clothes might be a welcome comfort at the end of the day as well as a few snacks. Waders are optional but not necessary this time of year. YDWP will provide camping sites and the meals for both days. No need to bring dishes, but do bring tent, sleeping gear, and a headlamp.
Classes will be limited to 20 students, so register early by navigating to the YDWP website "Event" tab. A $40.00 or more donation is requested at registration. Youth 13-15 are welcome to attend with an accompanying adult, and teens 16-17 may attend alone with a parent's signature. Spots for board members and accompanying relatives from YDWP and TU are limited. Check for availability. Maps to the site are forthcoming for registrants. Contact rochelle@yellowdogwatershed.org or John Highlen with TU at jlhighlen@gmail.com for more information.