Evening of Entertainment & the Annual Meeting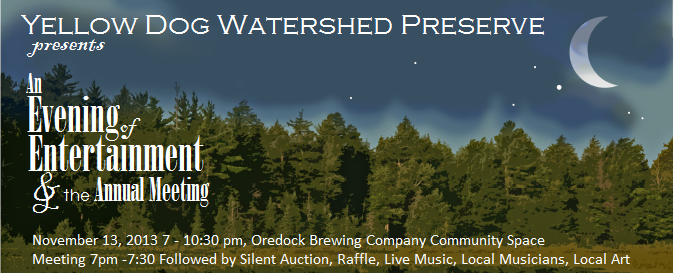 Save the Date! Yellow Dog Watershed Preserve will be holding our annual meeting at the Ore Dock Brewing Company in Marquette on November 13, 2013. The annual general meeting will take place at 7 – 7:30 pm with events to follow into the evening. With a raffle including seriously awesome donated Patagonia goods, a silent auction, beautiful local art, great local musicians, and a photo contest, it is going to be a fun-packed evening!
Our photo contest will be held at the annual meeting event. The public will be able to vote on their top three favorite photos for the next cover of the Yellow Dog Howl, our bi-annual newsletter which is distributed to our membership. Anyone is welcome to submit up to three entries highlighting water and nature, no later than November 8, 2013. Entries from the watershed areas are preferred which includes Lake Independence, the Yellow Dog River, the Salmon Trout River and Lake Superior near Big Bay, MI. Please submit high resolution images (300 ppi preferred) for good print quality. Send entries to mindy@yellowdogwatershed.org or call 1-(906) 345-9223 for more information. Local music for the evening will be wonderful and creative and includes several new collaborations from the community. We will see Montana Wildhack, a new acoustic invention. We will also hear the latest creations from Lost Dog (now the Dog Doors). Bryan Drewyor, a resident of the Yellow Dog Watershed, and one-man band will entertain us with his lyrical magic and a special song written for the event. Mike Kantola will also make an appearance and showcase his latest tunes and favorite covers on accordion and guitar. You don't want to miss it!
The event is a benefit for Yellow Dog Watershed Preserve programs, which include: water quality, land preservation, the mining campaign, education and outreach. We are a 501c3 nonprofit environmental organization dedicated to preserving and protecting the Yellow Dog Watershed, for now, and for the benefit of future generations. The meeting is open to the public and you do not have to be a member to attend. We really appreciate the donations and sponsors from all of our local businesses, thank-you so much for your support. We hope you can make it!