Eagle Mine Applies for Another Metallic Minerals Lease Next to Yellow Dog River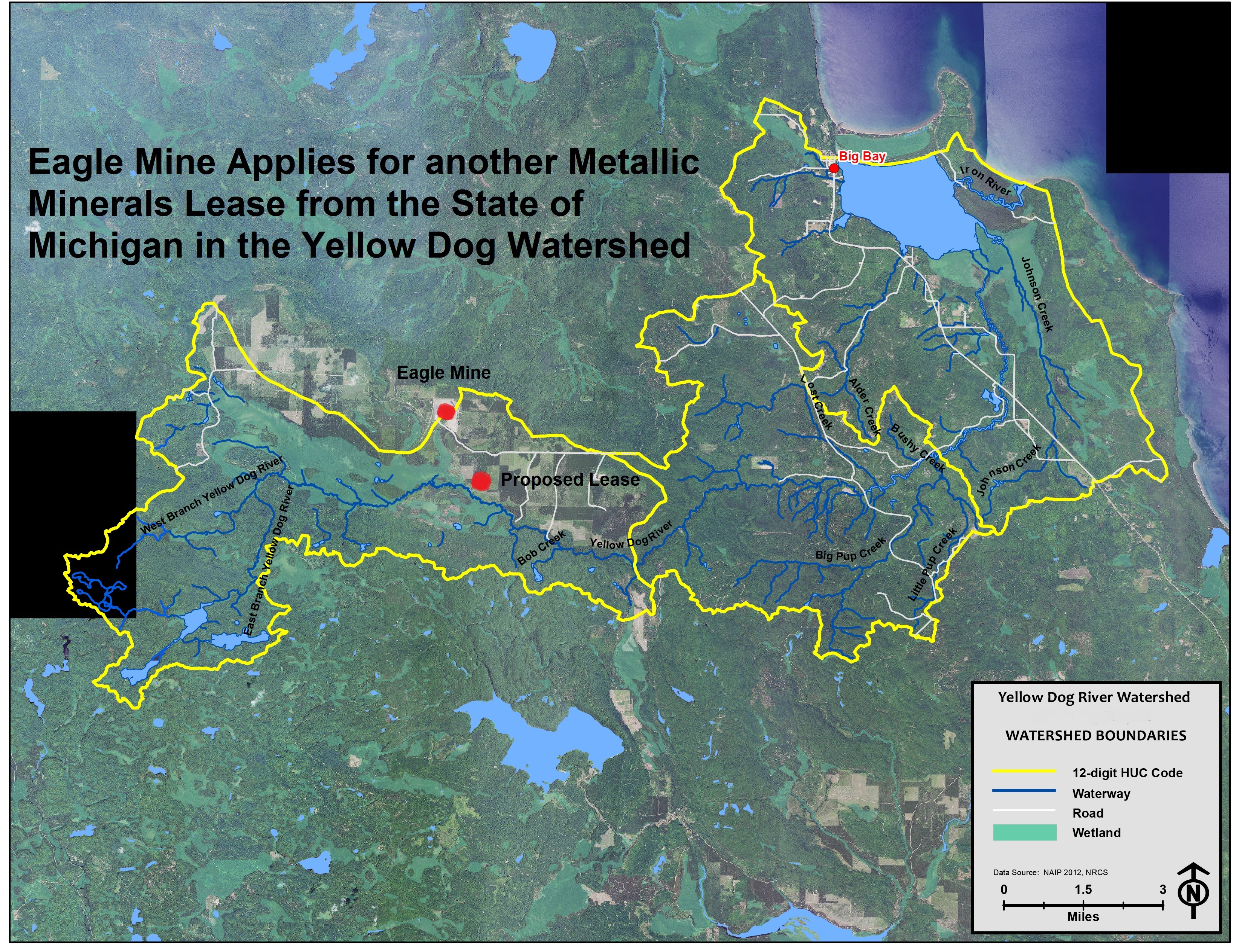 A 40-acre parcel adjacent to the Yellow Dog River in Michigamme Township owned by the State of Michigan with underlying state-owned mineral rights could soon be leased for more mining development to Lundin Eagle Mine. The mining company applied for a Metallic Minerals Lease on this parcel, and the boundary lies less than half a mile of the Yellow Dog River stream bank on the plains. The legal description of the parcel is: NE1/4 SE1/4, Section 13, T50N, R29W.
Currently, the proposed lease is "development with restrictions." The lease would allow for the use of the surface for metallic mineral exploration, development, or production under the conditions of the lease. The application has already been reviewed by the DNR Wildlife Division, DNR Forest Management Division, DNR Fisheries Division, and the State Archeologist. A public notice was not released until October 16th.
A mine in this location would have detrimental impact on wildlife habitat especially of the Kirtland's Warbler, a Federal endangered species which thrives in young 6-15 year-old jack pine stands. Stands of this type and age exist adjacent to this parcel. It would also impact the habitat for the narrow-leaved gentian, a State threatened and legally protected species which has been known to inhabit wetland areas in this section. In addition, despite the fact that the river is not on this parcel, mining development in this location, will alter water quality in the river a few hundred feet away. There are several ways this can occur: 1.) the release of particulate matter, reactive sulfides, lead and arsenic, etc. in air emissions 2.) Groundwater contamination through underground operations and 3.) Surface water contamination from related infrastructure.  For these reasons, the application for leasing these minerals should be denied. If the minerals were ever extracted, the impact to the watershed would be too great.
Cumulative impacts are not being evaluated, and the impacts related to a mine on this parcel will never be contained in the 40-acres.
What can you do? You must act before the November 20, 2014, the deadline imposed by the state.
You can write your comments on this subject and send them to Karen Maidlow, Property Analyst, Minerals Management Office, Department of Natural Resources, P.O. Box 30452, Lansing, Michigan 48909-7952
Or, you can email Karen Maidlow: maidlowk@michigan.gov
Yellow Dog Watershed Preserve will be monitoring the progress of this application and contacting all of our partners in effort to discourage the validation of this lease request and prevent another mining facility from being constructed in a pristine watershed. There is potential for a public hearing regarding this lease and we will inform you if one is set.