Another 240 Acres Preserved

Our community can now count another 240 acres of land in the Yellow Dog watershed as permanently protected and forever open to the public. YDWP recently became the new owners and caretakers of the property which is along the Yellow Dog River in Champion Township. It is a magnificent parcel that we are honored to hold.
The new property is directly adjacent and upstream from our Pinnacle Falls Tract, which is a 40 acre parcel that was purchased by YDWP in 2002. The property originally was owned by the Mead Paper Company who sold it to James and Barbara Kidder in 2000. The Kidders held it for 16 years as part of a larger holding of over 800 acres. "We're glad YDWP is the new owners and that the transfer is complete," states Jim and Barbara Kidder. The Nature Conservancy will hold a Conservation Easement on the property, which will provide additional protection. "Working with partner organizations such as Yellow Dog Watershed Preserve is crucial in The Nature Conservancy efforts to preserve biological diversity across the whole of Earth.  These groups are essential and expand our work at the local, grass roots level for they can inspire and engage local communities to connect people with nature in an effort to preserve our disappearing landscape," says Jeff Knoop, U.P. Director of Land Protection for the Nature Conservancy.
This recent addition features the parking area and most of the hiking trail to Pinnacle Falls. There is 1.1 miles of the Yellow Dog River that runs through the middle of property, 16 acres of wetlands, freshwater springs cascading down hidden waterfalls, and a freshwater pond. Exposed rock ledges punctuate the northern mixed forest and provides habitat for rare plants. During a recent plant survey, Green Spleenwort was discovered on the property. Green Spleenwort is a Michigan Species of Concern and until this survey, there has been only one other population of this plant found in Marquette County. In addition, Big Leaf Sandwort was found in abundance. This plant is Threatened in the state of Michigan. The area is likely to serve as habitat for the northwoods mammals like moose and birds such as the merlin, pileated woodpecker, and warblers of several variety. And of course, you'll find brookies in their hiding spots within the river itself.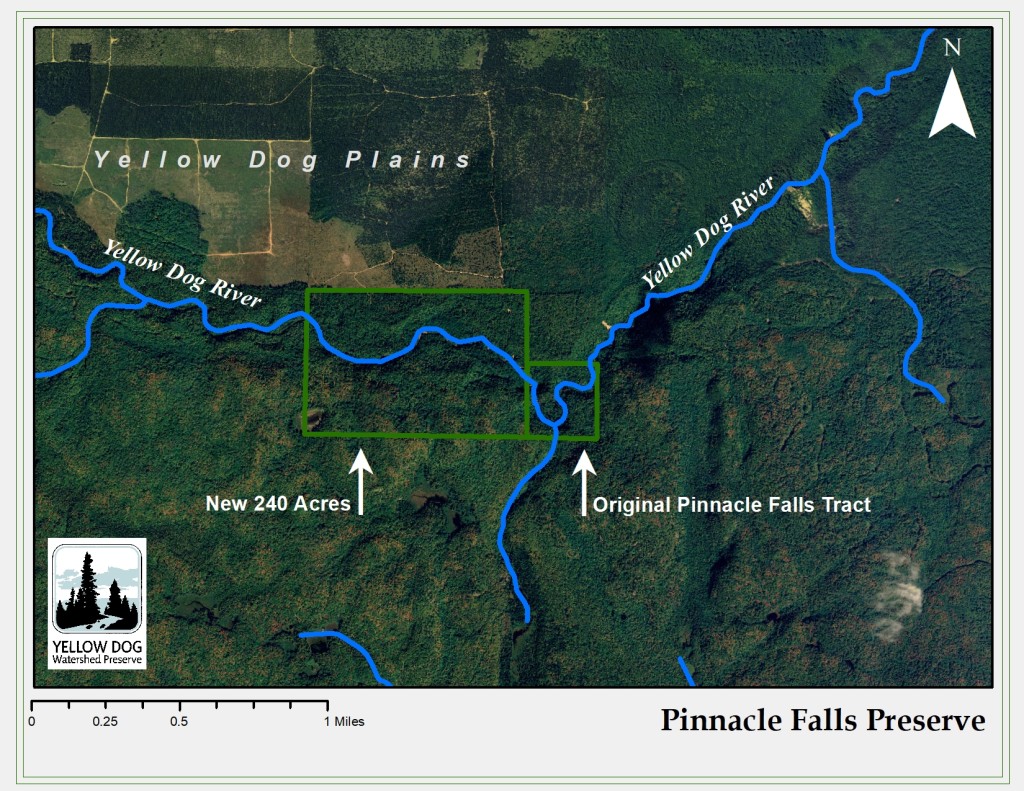 When the parcel was transferred to YDWP, it carried with it an enrollment in the Commercial Forest program. This program provides tax breaks for private landowners if they manage the forest for timber production and allow hunting/fishing. Our Board of Directors reviewed information, photos, and maps of the property to assess whether the enrollment should continue or if the parcel should be removed from the program. It was decided that the area was too fragile for timber harvest to be conducted in a sustainable fashion. The topography is very severe, the soils are less stable, and much of the property contains very mature stands of hemlock and pine. When a private landowner removes property from the Commercial Forest program, they are required to pay a withdrawal fee, which usually ends up being a very large sum of money and is cost prohibitive.
Our organization is so extremely fortunate and grateful to have been included in the final wishes of Ms. Marjorie Smith. Marjorie left behind a generous monetary gift in her will and we elected to use these funds to remove this new property from the program to ensure its utmost perpetual care. Timber production and harvest will not occur here. Marjorie would have been thrilled to see this project happen and to know the incredible role that she still plays today. Simply amazing.
YDWP again wishes to express their deep gratitude to James and Barbara Kidder for their donation of the land, to the Nature Conservancy for their assistance and support of the Conservation Easement, and to Marjorie for ensuring the property will always be the wild valley we see today.